Which Tummy Tuck Technique Will Give Me the Toned Appearance I Want?
Posted July 07, 2023 in Plastic Surgery, Tummy Tuck
A toned, smooth abdomen is one of the most sought-after aesthetic features for men and women. However, if you are experiencing skin laxity and a flabby abdomen resistant to exercise and dieting, it might be due to other causes that are out of your control.
In fact, pregnancy, excessive weight fluctuations, aging, and genetics can all play a part in excess, sagging skin around the midsection.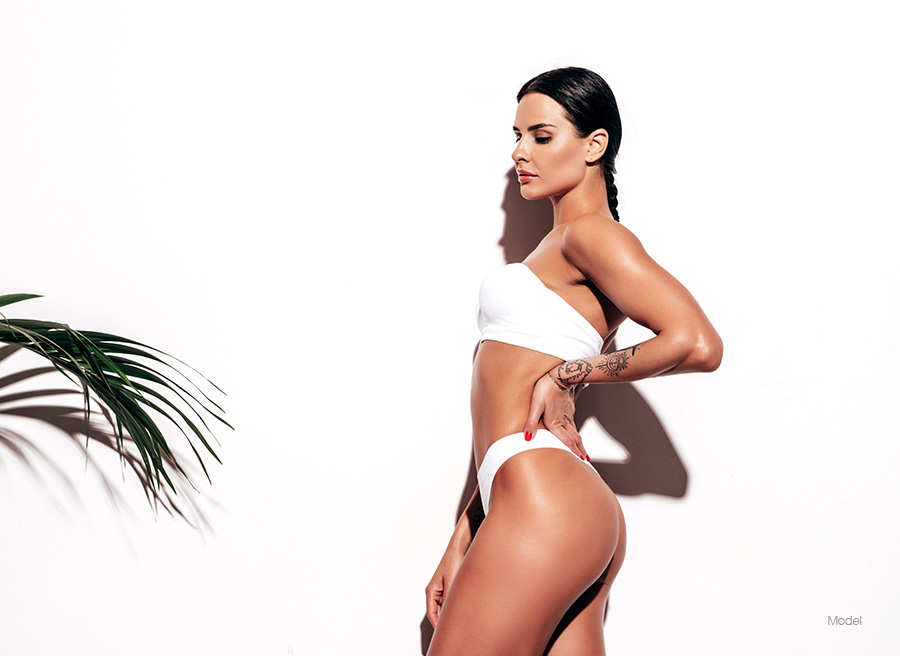 In such cases, abdominoplasty, more commonly known as a tummy tuck, might be your best option to get the contours you desire.
However, you have a few options when deciding what type of tummy tuck to get. This blog will break down what procedure is best for your specific goals, including the extended tummy tuck and the mini tummy tuck, and how to incorporate liposuction for a total body contouring result.
What Can a Tummy Tuck Achieve?
Abdominoplasty can improve the appearance of sagging skin and flabby abdomens.
It addresses the following concerns:
Skin laxity following weight loss
Age-related skin sagging
Weakened abdominal muscles following pregnancy or weight loss
Lower back pain caused by weakened abdominal muscles
Excess abdominal fat
What Is a Tummy Tuck?
A few techniques can be used depending on the severity of concerns, targeted areas, and your overall aesthetic goals. During your consultation, you can discuss these factors with Dr. Cha to create a custom-made treatment plan.
The Traditional Tummy Tuck
Dr. Cha will make an incision along the bikini line and around the navel — if necessary. Through the incision, Dr. Cha realigns loose or separated abdominal muscles, tightening the abdominal wall with sutures. Then, excess skin and abdominal tissue will be trimmed, with the remaining skin carefully redraped to highlight the new, smoother abdomen.
The Mini Tummy Tuck
This technique is ideal for patients with minimal to no looseness in the upper abdomen but a concentrated "pooch" of excess skin and fat in the lower abdomen. The mini tummy tuck requires a shorter incision and surgery, requiring less downtime; however, it is only appropriate for women and men with mild to moderate concerns in the lower abdomen with good elasticity in their upper abdomen.
The Extended Tummy Tuck
This procedure is typically useful for those who have experienced extensive weight loss. This process often leaves behind excess skin that can hide your hard-earned results, with few options for relief.
Excess skin around the hips and back can also be removed with the extended tummy tuck. An incision is placed along the lower abdomen, hips, and sometimes the lower back.
What Procedures Can Be Combined With Tummy Tucks?
These tummy tuck procedures are not intended as a weight loss solution — candidates should be close to their target weight and in good health. By targeting loose or separated abdominal muscles, tummy tucks can give you a more toned, smoother abdomen.
However, if you still have stubborn pockets of fat in other problem areas of the body, liposuction can be a great addition to your tummy tuck procedure.
Liposuction for Problem Areas
If you suffer from flabby areas in the abdomen, hips, thighs, buttocks, back, chest, and other parts of the body, liposuction can help.
Through small incisions, Dr. Cha will insert a thin tube that gently breaks apart and removes fat in the targeted areas. Rather than simply removing the fat, Dr. Cha focuses on creating contoured definitions.
Liposuction is an incredibly versatile body sculpting procedure that can easily be combined with other procedures, including your tummy tuck.
For example, if you choose a mini tummy tuck to tighten your lower abdominal muscles and remove excess skin around your midsection but also have stubborn pockets of fat around the hips ("love handles"), Dr. Cha can target both areas through a combination of abdominoplasty and liposuction.
How to Make the Most of Your Body Contouring Procedures
Both liposuction and tummy tucks can give you a thinner, more contoured physique. However, patients should be aware that these procedures are not intended for major weight loss or permanent solutions.
While the tummy tuck and liposuction provide long-lasting results, they cannot stop the aging process, natural body changes, or subsequent weight gain.
It's important to have reasonable expectations about your results and plan for continuing healthy exercise and diet practices after your procedures.
You can think of the tummy tuck and liposuction as procedures that give you a jump-start on your body goals and immediate results that you could not attain on your own. Now, it is up to you to maintain them.
Interested in Learning More About Tummy Tucks and Liposuction in New York, NY?
Dr. Cha is a board-certified plastic surgeon in New York City with extensive experience in body contouring procedures, such as tummy tucks, liposuction, Brazilian Butt Lifts, and more. To learn more about attaining a slimmer, more contoured physique, call us at (212) 717-2222 or fill out our online contact form to schedule a consultation.